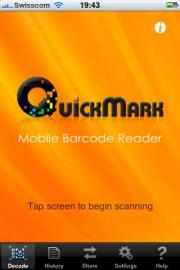 Yesterday Google announced that they have mailed out window stickers with two-dimensional QR Codes to the most-searched for or clicked-on businesses in its local business directory. The goal is to have them displaying in there windows so that by scanning them you will get all sorts of information about the business like phone number, photos, customer reviews,…
If you have a QR Code reader on your cell phone you can wave it in front of the barcode and you will be transported from the physical to the digital world.
An idea not so new… I am sure some persons have thought about it but Google just has the resources to effectively do it. They even partnered with Quickmark to distribute 40'000 pieces of their software for iPhone for free (instead of $1.99). iPhone owner go ahead and download it!